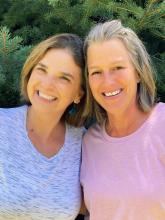 What I love about Dunn Elementary, an IB World School:
I love the sense of community we have here at Dunn. With so many different cultures and backgrounds from around the world here, we truly learn about ourselves and the world from each other.
What I love most about teaching:
I love the relationships I have with students, families and my colleagues! I learn something new everyday.
Favorite children's book/author:
I have many, so its difficult to choose one. I really like Nick Bruel, Mo Willems, Kathryn Lasky and Roald Dahl.
What I like to do outside of school:
Mountain biking, baking, reading, travelling, learning a new language, time with my family and my dogs.
My hometown:
Madison Heights, Michigan