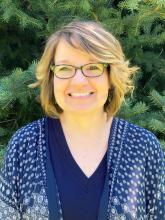 What I love about Dunn Elementary, an IB World School:
Dunn is a FAMILY! Everyone accepts, welcomes and appreciates each other.
What I love most about teaching:
I love seeing the creativity that each student brings into the art room! There are so many wonderful ideas and perspectives, that the creative possibilities are endless. I also love being the art teacher because I get the opportunity to see students grow and develop each year as they build artistic skills/knowledge from K-5.
Favorite children's book/author:
I love the book "Beautiful Oops," by Barney Saltzberg.
"When you think you have made a mistake, think of it as an opportunity to make something beautiful!" Saltzberg
What I like to do outside of school:
I love to play with my kids! I also like to participate in various arts & crafts including drawing, watercolor and acrylic painting, cross-stitching and knitting.
My hometown:
Colorado Springs, CO
Something else I would like to share:
Inspirational Quote: "The greatest glory consists not in never failing, but in rising every time we fall." Vincent van Gogh