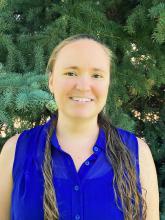 What I love about Dunn Elementary, an IB World School:
We all work together to realize our goals of educating all of our students to take positive action in the world. Dunn is a place where differences are celebrated and mistakes are always seen as learning opportunities. We all support each other to be the best we can be.
Favorite children's book/author:
Tamora Pierce has always been one of my favorites! I love how rich her worlds are and how strong her characters are as they learn how to work together to solve their problems.
What I love most about teaching:
I love helping to open up a world of possibilities for our students.
What I like to do outside of school:
I enjoy all aspects of theater from performing to behind the scenes work. I also enjoy dancing and singing but more recently have needed to find other activities which has encouraged me to get out and explore our gorgeous mountains!
My hometown:
I'm a Fort Collins local!