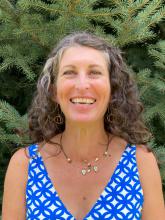 What I love about Dunn Elementary, an IB World School:
Dunn feels like family to me. We care deeply about one another, and support each other to laugh, learn and grow. The connections with students, staff and parents creates an atmosphere of open-mindedness, optimism and joy that makes everyday an amazing adventure! I am so very lucky to be a part of this incredible community.
What I love most about teaching:
I love discovering what inspires and motivates students as individuals. Then utilizing those factors to guide and empower them to believe in themselves and achieve to the greatest of heights.
Favorite children's book/author:
I love to read! A couple of my favorites would be Jacqueline Woodson, her book Brown Girl Dreaming writing entirely in poetry is incredible, and Kate DiCamillo, her characters feel like people I know.
What I like to do outside of school:
My family and I love to go to the mountains to snowboard in the winter and hike in the summer. I am also an avid runner. When I have the time, I love to travel and immerse myself in the experience of new food, culture and people.
My hometown:
I grew up outside of Orlando, Florida, but I spent my summers in Colorado at camp every year. I feel that Colorado has been my hometown since I was 8.
Something else I would like to share:
I love to come to work everyday!